Legal basis of the project
Legal basis of the project
1. On June 12, 2020, the Prime Minister issued Decision No. 828/QD-TTg on investment policy on investment project, construction and infrastructure business of Tran De industrial park. Accordingly, Ha Thanh Concrete Joint Stock Company was selected as the Project Investor.
2. On June 24, 2020, Soc Trang Province's Management Board of Industrial Parks issued Investment Registration Certificate No. 2828862486 certifying Ha Thanh Concrete Joint Stock Company as the investor of construction and business investment projects. infrastructure of Tran De Industrial Park.
3. On 07/07/2020, Soc Trang Provincial People's Committee issued Decision No. 1813/QD-UBND on the establishment of Tran De Industrial Park, Soc Trang province.
4. Being one of five industrial zones in Soc Trang province approved by the Prime Minister for construction planning with a scale of 160ha, in the period up to 2020 (Decision No. 1153/QD-TTg-CN dated September 5, 2018) )
5. Site clearance has been completed  reaching 98% of the area.
6. The resettlement area has basically been arranged for the affected households.

--> The investor of the IP and the secondary investors are eligible to carry out the preparation work for investment projects in the IP.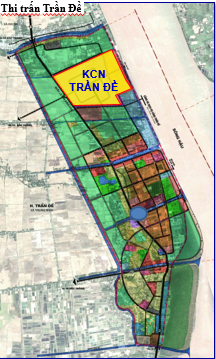 Submitted by
quantrivien
on Monday, June 7, 2021 - 13:38.